ExeAccess is a hard working and valued local charity, supporting independent mobility, offering a number of services. These include Ring and Ride bus service, mobility equipment hire and City Sights for the visually impaired.
ExeAccess  provides manual and powered wheelchairs and scooters to help anyone who has difficulty getting around the shops, attractions and businesses in the City Centre.
Aged 3 to 103, no matter whether their mobility problem is temporary or permanent, the service is available to residents and visitors in Exeter.
ExeAccess is located in Paris Street, on the edge of the Princesshay shopping centre, with easy access to the Exeter Bus Station and Exeter city centre.
Free parking is available, please contact us for more information. Our Ring & Ride bus stops outside our office and we can bring a scooter out to the bus for you, by arrangement. We can also try to arrange to bring a vehicle to Exeter Bus Station or Central Railway Station to meet you if you let us know your arrival time.
Booking by phone – 01392 494001 – will ensure that a suitable vehicle is available, however,  we will always try to help if you just call in.
MANUAL WHEELCHAIR HIRE COST:   £7.00  PER DAY     
MOTORISED WHEELCHAIR/SCOOTER HIRE COST:   £7.00  PER DAY*
Long term hire of manual wheelchairs, collapsible scooters, and solid tyre scooters are also available.
PLEASE NOTE:
All vehicles MUST be collected and returned to ExeAccess, Exeter between 10am and 3:45pm Mon – Fri or 10:30am and 3:15pm Saturdays
*Terms & Conditions apply.
You may pay by card or cash

Our services are available to anyone experiencing any kind of mobility difficulty, either temporary or permanent.
As well as disabled people, users of our services include those recovering from sports or other types of injuries, people receiving treatment for an illness and anyone having difficulty getting around.
How much does it cost hire equipment?
Manual Wheelchair                         £7 a day – £7 overnight
Powered Wheelchair/Scooter*      £7 a day – £10 overnight**
Walker or Walking stick                 £5 a day
Once you have registered with us, you may hire equipment.
Please bring 2 forms of ID with you – e.g. drivers licence, passport, bank card
We accept cash or card payments.
**A refundable deposit of £50 is payable for overnight hires, this is held until return – *please click here to see our  T&C's for more details.
Please return your hire equipment 15 minutes before closing time. Thank you.

DONATE EQUIPMENT – THE 4RS PROJECT

Do you have or know anyone that has ANY mobility equipment that they no longer use?
Our 4Rs Project is where we Recover, Restore, Reuse, Recycle mobility equipment which we then sell at reasonable prices to help cover the costs of the charity. We can arrange to collect items for FREE!

Please call in or ring on 01392 494001
CONTACT US
What day can I travel?
The bus collects from different areas of the city on different days of the week. The driver will pick you up from home and help you board the bus if requested.
You will have around 2 hours at a large supermarket and will be assisted by the driver to help with your shopping when boarding for the return journey.
Our drivers are friendly and helpful!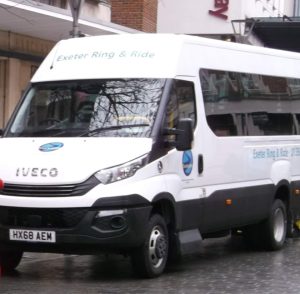 Monday

Beacon Heath
Broadfields
Heavitree
Newtown
Pinhoe
St Loyes
Stoke Hill
Whipton Barton
The Cat & Fiddle
Tuesday

Burnthouse Lane
Countess Weir
Newport park
St Leonards
Topsham
Wonford
Wednesday

Alphington
Cowley Bridge
Exonia Park
Exwick
Pennsylvania
Polsloe
St David's
St Thomas
How much does it cost?
The fare for a single or return journey is £4.20 (£4.50 outside the city area). You may bring a companion and they pay the same amount. You pay our driver on boarding the bus. There is no additional charge if you want to travel on the bus in a wheelchair. We can only accept cash on the bus.
Lunches and excursions
Ring and Ride organises regular lunch trips and excursions every Thursday to a number of different venues.
Meals are not included in the price.
THURSDAY LUNCH CLUBS & OUTINGS
Depart approx 10am and Return from 2pm
September
21 September    Sidmouth £8.00
28 September    Seaton Tramway (ticket £11.80) £8.00
October        
5 October           Strawberry Fields Lifton £10.00
12 October         Brixham £10.00
19 October         Imperial Hotel Torquay (Cream Tea £8.50)  £8.00
26 October         Greendale Farm Shop £8.00
November
2 November       Tom Cobley Spreyton £8.00
9 November       Quince Honey Farm £8.00
16 November     New Inn, Broadclyst £6.00
30 November     Cranberry Farm £6.00
December
7 December       Otter Nurseries £8.00
*Lunches are booked for 12:15pm
Please note these trips are bookable in advance & meals are not included in price
Pick-up times will be confirmed
All times are approximate and depend on venue, traffic, distance and number of passengers.
Please note we ONLY accept cash on the bus.
To book call 01392 494001
JOIN OUR TEAM OF AMAZING VOLUNTEERS

Be part of our team
Meet new people and make a difference in the community
If you like to give up some of your time to help out
Please call in or ring on 01392 494001
APPLY NOW
Greater Exeter Access Project
The Greater Exeter Access Project is a facility which offers access to parts of the city via our recently purchased Tramper vehicle.
Areas that were difficult to reach for the mobility – challenged are now within the Tramper's scope. Some of these areas include but are not limited to The Quay, Pennsylvania and Topsham.
This service is for the use of all individuals (once registered and trained) who are suffering from mobility problems whether they are temporary or permanent.
The Tramper is a great way to get around Exeter and surrounding areas – up to 30 miles can be reached depending on terrain.
Some of the accessible areas around Exeter are:- Exeter Quay, Exe Bridge Retail Park, Cricklepit Mill, Custom House, Marsh Barton, The House That Moved West Street in the West Quarter, University of Exeter, Northcott Theatre, Medieval Exe Bridge, Double Locks, Topsham and many more.
The furthest our Tramper has travelled so far is The Double Locks, on Exeter's canal. Following on from this the Tramper took Redhills in its stride on a trip to the Royal Oak in Nadderwater.
COST TO HIRE:        £6 up to 3 hours or £10 up to 6 hours
Terms & Conditions. We accept cash or card payments.

City Sights is designed to provide a service to aid blind and sight impaired people access the city, with the help of a trained volunteer as their guide. The guide will be "matched" to the person if possible in terms of age and interests.
The service can be used to assist with shopping, accessing entertainment facilities, going for coffee, visiting attractions and many other activities which require assistance to get there and get around.
Find out more
Exeter Community Transport Association
8 – 10 Paris Street
Exeter
EX1 1GA
01392 494001
info@exetercta.co.uk
Registered Charity Number: 1129560
Registered Company Number: 6874791
Opening Hours
Monday to Friday – 10am to 4pm
Saturday – 10:30am to 3:30pm
Parking available on 3rd Floor – please call for details.
All vehicles MUST be collected and returned to ExeAccess, Exeter between 10am and 3:45pm Mon – Fri or 10:30am and 3:15pm Saturdays
For further information on our services please fill out the form below or give us a call.
01392 494001 • info@exetercta.co.uk